Residencies at ISTA
Once a year, the Institute of Science and Technology Austria (ISTA) offers creative professionals the opportunity to intensively engage with scientists at the Institute, to gain inspiring insights into cutting-edge research, and to work on their own exciting projects.
During a three-month residency at the Institute, all doors on campus are open to our guests. They get the unique opportunity to work closely with our research groups, exchange ideas and are able to participate in all Institute events.
The ISTA Journalist Residency will take place at the same time as the ISTA Artist Residency and some programming will happen co-joined to encourage exchanges between journalists and artists. Both residencies will conclude in an event where participants get the chance to present their work and share their experiences.
---
Journalist in Residence
The Journalist in Residence program aims to promote high-quality science journalism, to enable exchange between journalists and researchers, and to explore new ways to make research findings more broadly accessible to the public.
Over a three month period, science journalists are invited to accompany two research groups at ISTA. They get the chance to take a deep dive into the cutting-edge interdisciplinary research on campus while pursuing their own independent science journalism projects.
Application ends on October 31, 2023, midnight CET!
Residency duration: April 1 – June 30, 2024
More information about the application process can be found here.
Artist in Residence
Insights from the fields of basic research often take years until they reach the day-to-day of the general public.
Therefore, ISTA opens itself up to a new generation of interdisciplinary collaborations: Convergences between art, science, design and technology create new discourse and access to cutting-edge 21st century science.
The program invites established as well as emerging Austrian and international artists for up-to-3-months residencies, to realize projects engaging in deep conversations with the research of the Institute.
Application ends on October 15, 2023, midnight CET!
Residency duration: April 1 – June 30, 2024
More information about the application process can be found at vistascience.at/en/artist-residency.
---
Your residency at ISTA:
The ISTA team is happy to assist residents with any formalities (e.g. documents needed for a visa) in order to ensure a good arrival on campus. Housing directly on campus is also possible. In addition, resources such as the Institute's library are available to residents.
Within walking distance from the campus area, you will find the Museum Gugging, a few restaurants, a supermarket, and the bus station for the free ISTA Shuttle Bus and the public bus lines that take you to Klosterneuburg, Vienna and Tulln. The Error Bar Café + Pub, located in the central building, offers snacks, drinks and games and is an excellent meet up point with researchers. As a resident, you will be free to use the campus gym as well as the sports courts (football, volleyball, traditional bowling – equipment can be borrowed from guest house reception).
---
Past Residents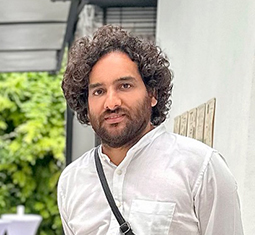 ---
Read the residency stories: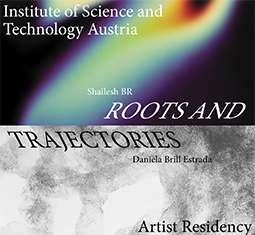 ---