Careers in Administration and Scientific Services
IST Austria was founded with the goals of performing world-class basic research and training the next generation of scientific leaders. Setting examples in science and education, however, requires setting an example in science management, and the administration of IST Austria strives for professionalism, efficiency and, above all, excellent support for science and scientists.
---
Professional Fields
IST Austria is a growing research institute with opportunities at every career stage! The administration and the scientific services units offer a wide range of entry and development possibilities within the following areas:
Administration
Academic Administration deals with the organization of academic life, ranging from faculty recruiting to grant management and graduate school organization
Business Administration: Areas such as Finance, Human Resources and Communications to Technology Transfer and Project Management ensure smooth processes
Assistants to Professors support our faculty in all administrative and organizational tasks
Construction & Facility Management: Engineers, architects, experienced electricians, HVAC specialists, control & feedback control systems engineers and many more ensure the smooth operation of all facilities on campus
IT provides full services, ranging from IT support to core infrastructure and software development
Scientific Service Units (SSUs)
Bioimaging Facility
Electron Microscopy Facility
Library
Lab Support Facility incl. our Fish & Plant Facility
Nanofabrication Facility
Scientific Computing
Machine Shop
Preclinical Facility incl. our Animal House
Find more information about Scientific Service Units here.
---
Career stages
Graduate/Experienced
IST Austria is growing continuously: around 1'200 employees will be working at the IST Campus in 2026. Due to this growth, numerous opportunities for sharing ideas and experiences, developing processes and supporting our scientists with high-quality standard services arise.
In order to meet those requirements, we are looking for
dedicated alumni, who are eager to work on and learn from various topics with curiosity and motivation,
as well as experienced colleagues who want to support the development of the Institute with their gathered know-how and competence.
Professionals interested in supporting scientists and furthering the missions of the Institute in various areas, can apply for positions advertised here: Open positions.
Apprenticeship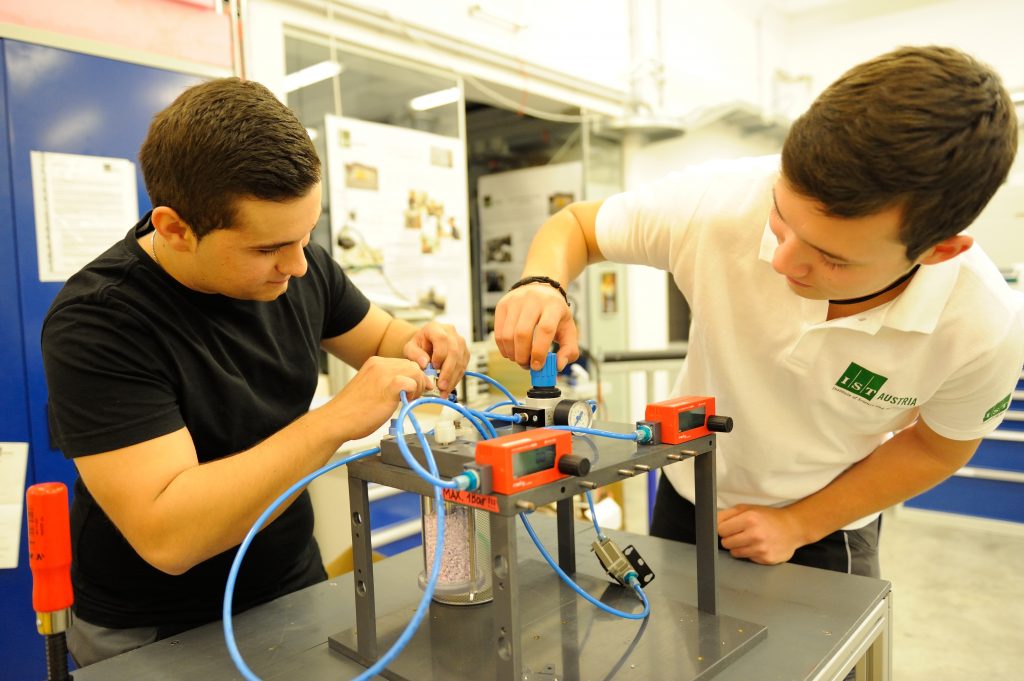 Apprentices are trained at IST Austria in the following professions:
Electrical engineering – Electricity and building technology:
You support the maintenance of the electrical infrastructure of our research institute.
Metal technology – Technician for machine tools:
You support the manufacturing of various machine components and take part in the construction of prototypes for scientific uses.
Information technology – Engineering:
You get to know several computer applications of modern IT infrastructure and support users in the best possible way with any problems concerning computer systems.
Installation and building services engineering – Heating and ventilation engineering:
You are in charge of the technical infrastructure of our research institute and gain state-of-the-art know-how.
Archive, Library and Information Assistant:
You support high-ranking researchers from all over the world in the supply of information and research.
Animal keeper:
You take care of the laboratory animals (e.g. mice or fish) for our scientists.
Your attributes:
Punctuality and very good manners
Team spirit and reliability
Good command of English and the willingness to improve
9th grade completed positively
Curiosity and joy for extending your knowledge
Top reasons for your apprenticeship at IST Austria:
International environment and a cooperative atmosphere
Apprenticeship with A-levels
Further education & language courses
Social benefits
Success bonuses
What does the application process look like?
At the beginning of the year (January/February) we start the application process for apprenticeships to be filled by the following fall. You can find all open apprenticeships at "open positions".
Interested? Send your application documents (including letter of motivation, CV and the last two school certificates) via e-mail to: lehre@ist.ac.at.
After we have received your application, we compare your documents with our requirements for the open apprenticeship positions and invite you for a selection procedure at our Institute. This selection procedure consists of a first interview and an online test. Additionally, you will have the opportunity to get to know your working space, the team and your instructor.
Once you are offered the position and accept, you start your apprenticeship at IST Austria in the beginning of September.
Questions? Contact us at lehre@ist.ac.at.
Internships
You are a pupil, student or have just finished your education? You want to gain exciting insights into the world of work at our Institute? We are looking forward to receiving your complete application (incl. letter of motivation, CV, relevant certificates)!
IST Austria offers the following internship possibilities:
Summer internship (1-2 months)
Ideal time frame for your application: at the beginning of each year (January/February). The internship will take place during summer (June until September).
Internships (over the course of a few months, according to agreement)
Applications are possible all year round. Internships are assigned demand-based. The duration and period of the internship are agreed individually depending on the field of interest and needs.
Examples of possible areas of application in the course of an internship:
Commercial area: e.g. Procurement, Accounting, Human Resources, Communication & Events
Technical area: e.g. Building Technology/Installation, Electrical Engineering, Laboratory Planning/Room Furnishing, Technical Facility Management
IT Support, System & Network Administration, Software Development
Animal care in our Fish Facility or Animal House
Days of work practice for pupils
Days of work practice allow you as a pupil to gain insight into the working world for several days (2-5). Therefore, it is necessary that the school concludes an agreement with IST Austria.
Are you interested and motivated to experience the world of IST Austria? Send the following documents to recruiting@ist.ac.at:
Application form of your school for the days of work practice
Letter of motivation in which you describe why and in which area you would like to complete the work practice days at IST Austria, as well as the desired duration and preferred time frame.
Contact
Any questions? Get in touch with our recruiting team recruiting@ist.ac.at.
How to get to IST Austria
Find your way to us.