Mehr Informationen:
HARALD RINGBAUER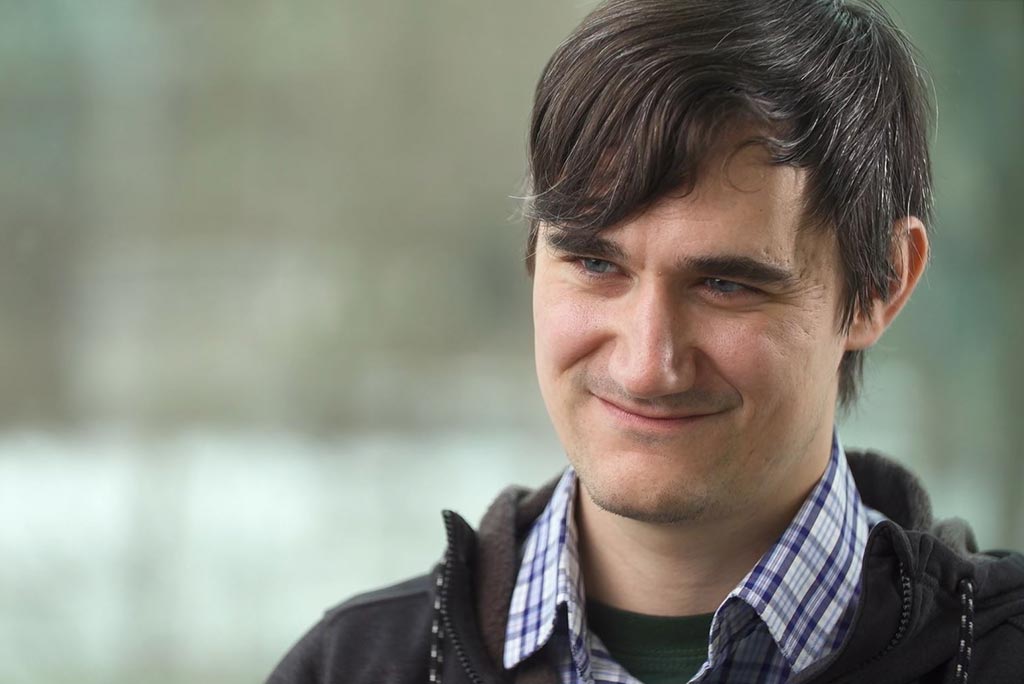 WHERE?
MAX PLANCK INSTITUTE FOR EVOLUTIONARY ANTHROPOLOGY, LEIPZIG, GERMANY
AREA OF WORK
GROUP LEADER
POPULATION GENETICS
ANCIENT DNA
COMPUTATIONAL GENOMICS
AT IST AUSTRIA
PHD STUDENT
NICK BARTON GROUP
Harald Ringbauer was a PhD student in the Nick Barton group. He is now a group leader at the Max Planck Institute for Evolutionary Anthropology, Leipzig. In January 2021 he visited the IST Austria campus to take a walk down memory lane and answer some questions about his work and career.
Watch the corresponding video on YouTube
WHAT'S WRITTEN ON YOUR BUSINESS CARD?
My business card right now says group leader at the Max Planck Institute for archaeogenetics in Leipzig, and I actually adjusted to get a new business card. Because up until now, I was doing a postdoc at Harvard, at the Harvard Medical School. I will actually keep my affiliation. So it will be a pretty cool business card.
WHAT'S THE ESSENCE OF YOUR JOB?
I'm an archaeogeneticist, which means that we get DNA from human remains who lived 1000s of years ago. And then, we look at how people moved around, how they're related, and their social structure. So we try to get insight into past movement into past mobility into past patterns, how we live together. The coolest thing is that you really get fascinating insights of people who lived like 1000s of years ago, and it's still mind-boggling for me. For instance, Ötzi: We have his whole genome, and you can really see to whom he is related and how he came there. We can see from which group he was if his parents were related. So, the coolest thing about my job is that you really get fascinating new insights into who these past people were.
The limitations are that, when we look at the human past, this is often a very emotionally very loaded topic. So often, even when you don't even think about it. When we only tell stories about past movements or stories about ancestry. People with certain agendas try to take these results and make an argument out of them. So you always have to be careful not to step on anyone's toes, and also to present it in a very sensible way.
WHERE DO YOU SEE YOURSELF IN THE FUTURE?
Totally in science. So normal will be for five years at the Max Planck Institute as a group leader. I hope to see myself in five years in Leipzig. And then beyond that: a career in science. Actually, long run, I like humans. They are very interesting for doing ancient DNA. But now we can also do ancient DNA on animals and dogs, on horses, and so on. So that would actually go full circle for the PhD doing genetic analysis, and I want to stay in that kind of topic.
WHAT'S YOUR SCIENTIFIC BACKGROUND?
In my bachelor's and master's, I did mathematics and physics at the University of Vienna, so actually very abstract. And then only at the IST, I came, I became more interested in actually population genetics, where you can actually apply these mathematical tools to population genetics, and then became more and more interested in actual data analysis. And so, in the US, I really dove deep into archaeogenetics. That's actually a very interesting story. Because before I started, I was actually thinking: history or mathematics. Because actually, I had a big interest in human history. But I chose mathematics. And I would not have guessed that, actually, by choosing to study mathematics, I would end up with an academic position in archaeology and human history. And it's really funny to see like this way of quantitative thinking and like this modeling is now actually very useful in really like figuring out, really old big archaeological questions about the human prehistory and also now about human history.
WHAT ROLE DID IST AUSTRIA PLAY IN YOUR CAREER?
It was the first time I came into contact with world-class population genetics. I was really lucky to have my supervisor Nick Barton, who is like a world-renowned expert, and I really came into contact with bleeding-edge science, like meeting the experts in the field. I got really good training in that and a lot of expertise. Up until now, I think this is the skill set and the network. I think that it is absolutely the key to my career.
GIVE THREE PIECES OF ADVICE TO CURRENT IST AUSTRIA MEMBERS
The first piece of advice is: Don't listen to advice. Go your own way. It's like sciences. There are many aspects. It's different for anyone, like it's different per field it is different per character. There are actually many paths to success, and everyone has to find their own way, tailored to their own strength.
But then the second one, you should actually listen to that one: hard work and patience. It's often not easy in science. You have to keep going. Everyone has good and bad days. It's totally normal to have bad days, but persistence is important.
The third one is: don't forget to have fun. You have to find a good balance. It was really good to play table soccer and getting everything out of the system. Most of us are not robots, and most of us, you know, work best when we have a good balance.
WHAT ARE YOUR FAVORITE MEMORIES OF IST AUSTRIA?
Great moments were certainly coming to the bridge after lunch and seeing everyone, my cohort, my international group of friends, having fun on the bridge having fun talking. So many fun moments: Playing table soccer, going to the sauna! All our retreats! Just sitting outside on the balcony. Coming back here to IST, it's actually all coming back to me. Actually, I am thinking of doing another PhD at IST. 😉